We Transform Kitchens & Baths
Start With A Custom Kitchen Remodel
Whether your dream kitchen is a chef's showplace or a comfortable gathering spot for family and friends, Roelofs Remodeling & Renovation can design and build a room that will fit your needs for years to come. We can make the most of tight spaces, open up the kitchen to an adjacent dining room, or add windows to let in more light and give the room a spacious feel. During a kitchen remodel, we can also:
Install countertops that complement your décor, including suede concrete and granite.
Replace your cabinets or build a new island.
Add contemporary appliances.
Install updated lighting fixtures.
Use molding and trim to enhance the look of the room.
Install stylish, energy-efficient windows.
Build roomy bays.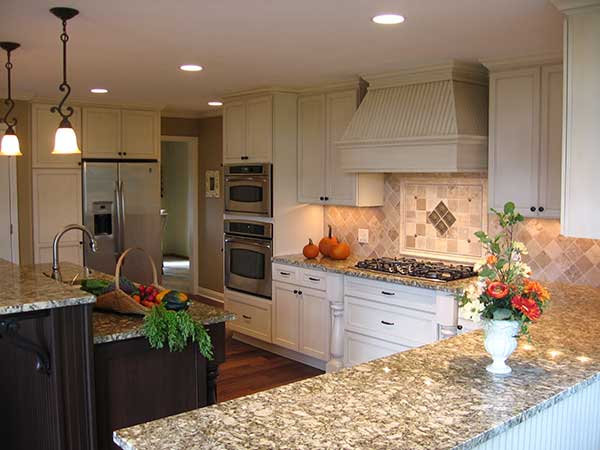 Remodel Your Bath to Fit Your Lifestyle
As your lifestyle changes, few rooms see their use change the way a bathroom does. The bathroom design for a growing family is very different from the bathroom of a middle-aged couple — and very different again from a bath designed for seniors who are aging in place. If your current bath is not meeting your needs, let Roelofs Remodeling & Renovation align it with the way you live now. From a hardworking family space to an elegant retreat, we can make bathrooms serve you and reflect your style, whether you prefer a bathroom that is functional, luxurious, romantic or whimsical.
With our design/build approach, our entire team will help you develop the look and feel you're after, and then ensure that that is what you get, whether you are remodeling a big bath space or a powder room under the stairs! We follow best building practices and meet building codes on all jobs, so your bath will perform well for years.
Contact Our Bathroom & Kitchen Experts Today
Tired of cramped spaces, inadequate lighting and dated flooring, countertops and fixtures? Get the bathroom or kitchen you have dreamed of. Call Roelofs Remodeling & Renovation at (952) 512-0110 or fill out the online form to schedule a consultation to discuss a bathroom or kitchen remodel.