Home Renovation & Remodeling for More Than 50 Years
Our Story
Our firm was founded in 1966 as Ken Roelofs Construction — a builder of high-end custom homes. As the years passed, customers for whom we had built homes asked us for updates and add-ons — and our remodeling division was born. When Jerry Roelofs joined his father, Ken, in the business in 1978, they continued new home construction but increasingly did the remodeling work their clients wanted.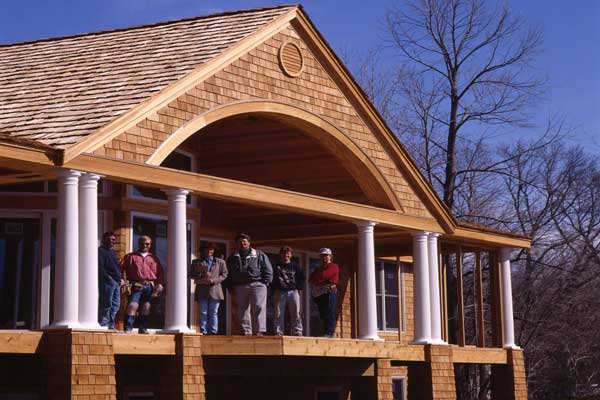 By 1983, home renovation and remodeling had become such an integral part of what we did that we made that our primary focus. Ken retired in 1995 and the company name was changed to Roelofs Remodeling & Renovation. In 1996, the company won the first of many Remodeler of Merit Awards and was named a "Big 50 Remodeler" by Remodeling magazine.
The Roelofs have been active in the building industry. Ken has served as president of the Minneapolis Builders Association. Jerry has been on Board of Directors of the Home Owners Warranty Corporation and held positions with the Parade of Homes, the Remodelers' Home Showcase, the Twin City Remodelers' Council and the National Association of the Remodeling Industry. Jerry attributes his involvement in these organizations to a desire to give back to the industry that has provided his family with a livelihood and to constantly push for improvements and integrity in the remodeling business.
Still Building on Our Rich Tradition
Although much of the technology in remodeling has changed over the years, Roelofs Remodeling & Renovation remains committed to its core values:
A focus on clients and responsibilities when work is done in their homes.
Delivering value in design and construction.
Placing a value on our employees, their skills and their families.
Roelofs appreciates older architecture. We know how to work with existing plumbing and electrical systems and to strike the necessary balance between renovation and remodeling. Clear communication between you and your project manager is a high priority. You'll understand the process: what's going to happen and what you can expect.
Learn a Little About Our People
Gerald L. Roelofs – Owner, Design/Sales
As a teen, Jerry Roelofs worked in his father's construction company, doing rough framing and site work. He joined the company full time in 1978 and studied architectural design and drafting. He is the firm's remodeling design/salesperson.
Andy Irving – Estimator, Production Coordinator, Small Project Sales
Andy joined our firm in 2001, bringing sales experience from another aspect of the construction industry and working hard to learn the ins and outs of the remodeling business. He started our Small Projects/Handyman Division to meet the needs of our existing clients.
Linda Roelofs – Office Manager
Linda handles the daily administrative tasks at our firm, as well as vendor relations and accounting. She directs her energy toward ensuring that our team remains focused on our clients and their expectations and experiences.
Contact Roelofs Remodeling & Renovation Today
It's our privilege to make your home a better place for you and those you love through superb home renovation and remodeling. Call us at (952) 512-0110 or fill out the online form to schedule an appointment.